VOLTERRA, IDEAL DESTINATION THAT YOU CAN REACH FROM THE MASSINI
Volterra. Ideal destination reachable from the Massini
Volterra
The peace and nature that surround at the farm Massini, in the heart of Tuscany, are an earthly paradise from which you will hardly want to leave. A holiday at the Massini will always be in your heart because of the nature and the pure air you will breath within the farm.
But if you really can not go home without having visited some of the wonders of Tuscany, we offer you some absolutely must-see destinations.
Volterra, the city of alabaster par excellence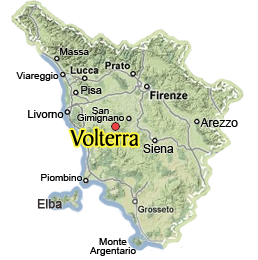 Volterra is a pretty town in the province of Pisa, reachable in an hour from the Massini.
Velathri, Etruscan name of Volterra, was one of the 12 most important cities of the Etruscan confederation. At the end of the 4th century BC the construction of the city walls, 7300 meters long, was completed. It was designed to protect the town and the urban center, but also the sources, cultivated fields and pastures, often subject to incursions by foreign peoples. After a period spent under the dominion of the Franks and, later, the Lombards, Volterra passed under Roman hegemony by changing its name to Volaterrae (from which the current one derives). Finally, it was sudmitted to the Florentine supremacy first, and then followed by the events of the Grand Duchy of Tuscany and voted – almost unanimously – for the annexation to the Kingdom of Italy in 1860.
Today Volterra is a very popular destination in Tuscany. Both for its typical products and for its urban layout that recalls its Etruscan origins. You can still visit most of the city walls and two of the gateways to the city. Porta Diana and Porta dell'Arco, as well as the old Acropolis which houses several buildings and the foundations of two ancient temples. There are also many traces of the Roman domain that can still be visited. An example is the fascinating Roman theater, built on a slope of the hill that reminds to the shape of an amphitheater; brought to light only recently, around the 50s, it is supposed to have been built around the first century BC.
Walk through the streets of the historic center and let yourself be carried away by the timeless magic that surrounds the city; taste the typical and curious products inside the characteristic artisan shops. You will find many souvenir ideas of your trip to Tuscany, especially among the wonderful objects in alabaster. We can say that Volterra, , is famous all over the world for its wonderful alabaster!
i Massini e la tecnologia
I Massini in partnership with TP Solutions have installed high speed Wi-fi throughout the hotel structure. Our guests will therefore always be connected.
http://www.massini.it/wp-content/uploads/2017/06/volterra.jpg
533
800
massini
http://www.massini.it/wp-content/uploads/2016/03/massini-logo-nero.png
massini
2018-11-13 10:55:04
2019-04-13 15:57:35
VOLTERRA, IDEAL DESTINATION THAT YOU CAN REACH FROM THE MASSINI